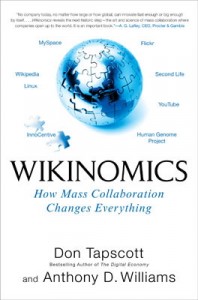 I'm currently in the middle of the book Wikinomics by Don Tapscott and Anthony D. Williams. They discuss the increasing popularity and need for collaborative effort to create value and content in this economy. Examples range from the music industry to server software.
Quotes:
Pg. 28
"By definition, a truly global economy has no physical or regional boundaries. It builds planetary ecosystems for designing, sourcing, assembling and distributing products on a global basis."
Pg. 29
"The difference today is that the organizational values, skills, tools, processes and architectures of the ebbing command and control economy are not simply outdated; they are handicaps on the value creation process."
Etsy.com is a great example of a place where people from all over can come together to create an ecosystem for growth. When you purchase handmade goods on the website, you are buying directly from the maker/seller, cutting most of the middlemen and transaction costs. I recently purchased a case for my camera on the site from a person in Dallas, TX. Without this marketplace for people to gather at, I may have gone to buy a product from a big name company.
There are tons of examples of how the Internet has spread knowledge, goods, and connected people to create value. It really is amazing how much can be accomplished nowadays! I'll post more when I have read more of the book.