Tea season has come around sooner for me this year with this chilly September. Most of the tea that I drink is probably made in China. I like to drink jasmine tea mostly, but sometimes I'll have green tea. And I drink A LOT of tea in the winter, so it got me thinking about what kind of impact that has.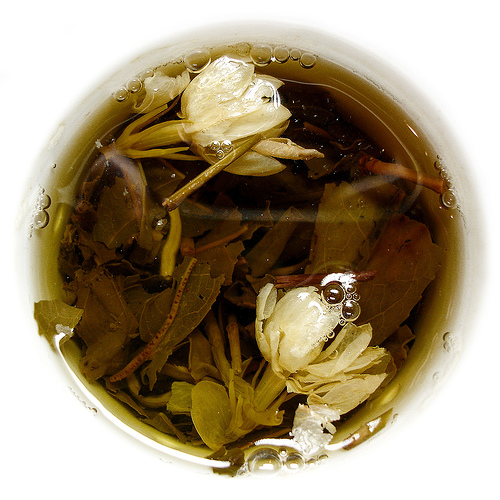 First of all, importing the tea will increase the environmental impact. Most likely, the tea is getting shipped over from China in a large shipping container on a big ship. Tea doesn't weigh very much, but it still does weigh something and takes up space, so both factors would have to be taken into account.
Then, the materials of the packaging should be considered. Sometimes tea gets shipped in large barrels, so they can be sold by weight. That is the most efficient way to ship the tea by using the least amount of packaging.
NUMI Organic Tea is one company that uses good practices for packaging. From their website:
"our tea boxes are made with 85% post-consumer waste, annually conserving more than 5,202 trees and reducing landfill by 334,560 pounds. We do not cello-wrap our boxes, our tea bags are 100% biodegradable, and we choose to use bamboo for all of our gift packaging, a leading renewable resource."
On a more commercial side, Lipton apparently is only going to use leaves from sustainable, ethical sources for their tea. Check out this Treehugger post.
Here is another good article about food mileage of tea and coffee that offers the advice that we should drink tea that is "sustainably produced, fair trade tea. Buy it loose and in bulk if you can, or in unbleached tea bags, at least." The author makes the point that in the big scheme of things tea and coffee production are often important sources of income for poor third world villages and that the shipping by boat is about one-eightieth the carbon footprint of shipping by air.
So I guess that means I can still drink tea this winter, but I will have to try to buy lots of leaves at once from the right vendor (though I'm not sure where I can get fair trade jasmine tea in the city).

Image credit: Flickr user serhio