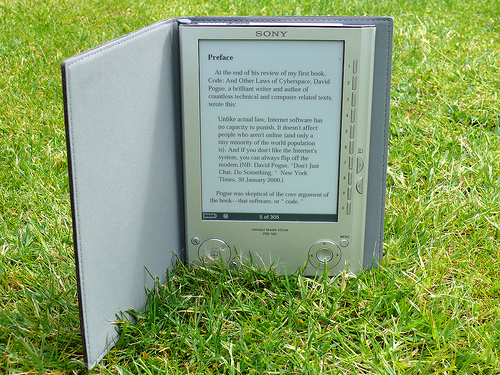 With a slew of recent releases of gadgets that serve as ebook readers (Barnes and Noble Nook, iPad, and all the ones announced at the Consumer Electronics Show), I thought I would take some time to look back on the experience I've had with my Sony PRS-505 Reader and why I love it and e-ink technology. (Mine is dark blue, not like the one shown here!)
First of all, I got the Reader a little over 2 years ago in Fall of 2007. I bought it somewhat as an impulse buy, but I justified it as a long term investment. Since then, I read at least 4x more books than I would have otherwise. This is the biggest reason why I'm thankful that I decided to buy the Reader.
Here are the other main reasons why I bought it:
I don't have space at home for all the books that I want to read, and I don't do well with library books (see #3)
I don't have the money to buy all the books I want to read (ebooks are usually cheaper, and many you might be able to find for free)
I'm allergic to old books and dust (I get itchy all over), so I won't be able to enjoy re-reading any of the physical books, bringing their value down over time
Here are the reasons why I love my reader now:
It is way lighter and smaller to carry around than a book
I like being able to immediately start reading another book once I've finished one
The e-ink screen is nice on my eyes, as compared to a lit LCD screen (I get enough of that from staring at my laptop!)
I'm also happy that I chose the Sony Reader over the Amazon Kindle because any of the content that I buy from the Sony store is not locked to my device (i.e. anything bought for the Kindle only works on the Kindle, there are tons of stories if you Google "Kindle DRM").
I don't buy books very often, but when I do it is in a format that is more useful and open (usually ePub). The Kindle uses its own proprietary format. Also, I'm not so interested in the wireless download function of the Kindle so that does not bother me.
There was also that incident where Amazon deleted George Orwell books from all Kindles. That type of control is not something I am a fan of. Even though it was for valid reasons and they said they were changing their practices so it wouldn't happen again, the fact that they have the ability to go into each device and perform that function irks me.
So, while I did have to shell out $280 for my Sony PRS-505, I've read enough books to make it worth it and I'm sure that I will be using my Reader for at least 4-5 more years.
Do you have a reader? Would you consider buying a reading device like this? I hope my comments have been helpful!
Image credit: Flickr user cloudsoup