I've donated to Haiti relief efforts, and now I've also donated to help save this organization that has been important to me (especially in my current job search!).
In the spirit of altruism, I'd like to bring up the cause for Idealist.org.
For those of you who do not know, here is the description listed on their website describing who they are:
Idealist is a project of Action Without Borders, a nonprofit organization founded in 1995 with offices in the United States and Argentina. Idealist is an interactive site where people and organizations can exchange resources and ideas, locate opportunities and supporters, and take steps toward building a world where all people can lead free and dignified lives.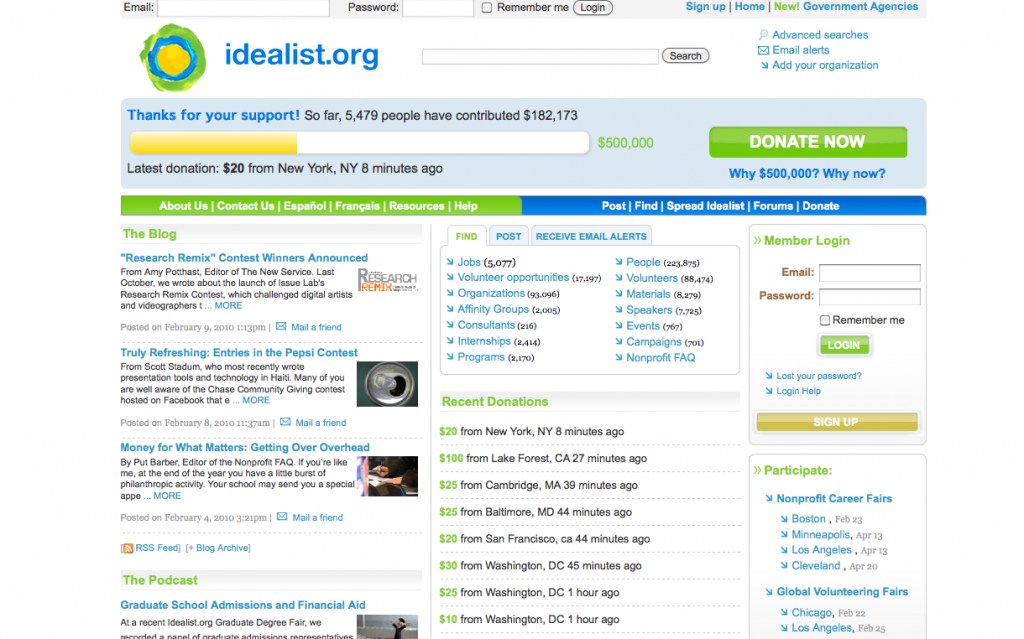 Through the website, you can find listings of nonprofit organizations and government agencies, people, jobs, internships, volunteer opportunities, events, and groups. They have mostly been able to stay afloat from the dues they charge when organizations post job listings. However, due to the recession, that amount of income is not covering the cost of running the website.
Idealist.org has been important, not only in helping me find job listings that apply to my interests, but I've also greatly benefited from their guide for job seekers. (I posted about it earlier here.)
I'm currently in the process of interviewing for a position that I found through Idealist.org, and if I do get the position, I want to pledge my first paycheck to Idealist.org. I think it is an invaluable resource and hope that it can continue to exist so that I may use it again in the future.
I know it might seem silly to donate to a website that mostly functions as a job board, but it is so much more than that!
They have been working to create a community of do-gooders around the world, and if you check out their appeal for donations on their website you will see many stories of others who have been affected by the work of Idealist and the people behind it.
So I hope that anyone who has ever used Idealist.org to look for a job or internship can contribute a few dollars to help it stay up and running. It would be sad to see this great website shutdown now when we need it the most to collaborate and keep doing good things!