Instead of reading mediocre to bad fiction in your spare time, how about some classics? For free?
I might be defining my opinion about Twilight by this entry, but, really, what happened to reading good literature? After leaving high school where many of us had required reading, how many continue to pay tribute to the oldies (English majors not included)? There are plenty of classics in similar genres to what is available today.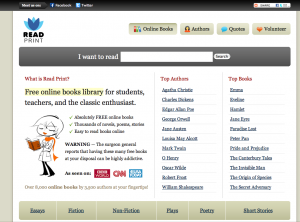 Many classics have been freely available for while, since works enter the public domain after copyright expires. Project Gutenberg has been making available public domain books since 1971 and is the largest collection of free ebooks around. It is a pretty huge collection, and a great source of reading material especially if you own an ebook reader.
Something new on the rise, however, is Read Print, which is a website that also puts out books, but in more modern Web format complete with Facebook, Twitter, and extensive chat capabilities (Meebo, Facebook, AIM, MySpace IM, Google Talk). It was recently named one of TIME's 50 best websites. I would still use Gutenberg for getting ebooks to read on my Sony Reader, but being able to read online is an attractive function of Read Print.
It would be interesting to try to have a virtual book club meeting through Read Print. It would be quite easy to communicate and the readers would not have to be worried about buying the same edition of a book to keep track of page numbers. It would be possible to even try to schedule our reading sessions to be synchronous so that we can chat as we read. That might be more distracting than helpful, but it would more closely emulate watching a TV show or a movie together.
Check out the Read Print collection. You can browse for books by title or by author, here are a few: