I was lucky enough to catch The xx at Summerstage in Central Park last Sunday after being away for a tournament. And by "catch," I mean I sat/stood outside of the gates in a clearing in the trees and barely was able to see a sliver of stage.
There is something about being outside in semi-nature, enjoying live music, that makes me very very happy. Maybe it is the combination of being in a green, grassy park with the sun shining and breeze blowing, and good aural stimulation that just relaxes the mind and body. It could also be that outdoor concerts are associated with summer, which is a generally happy time of the year. Yay for Vitamin D!
This reminds me of a few things I've read in the past few months. First, there were some studies that looked at how consumers spent their money. They split this into 2 categories: material purchases and "experiential" purchases. The researchers found that the happiness that consumers felt from material purchases did not last as long as the happiness that they got from experiential purchases. For example, buying a massage or doing something with friends gives a longer lasting happiness than shopping for clothes or splurging on things.
Considering I didn't even have to purchase a ticket to The xx's concert, I'm really glad that I went! It has been good for my mental health this week.
Another good article is this one in the NY Times. It talks about similar ideas and a specific story about a couple who took it upon themselves to get rid of most of their belongings. The woman was able to get it down to 100 personal items, and they were able to move into a smaller apartment and pay off their $30K debt. The couple was also happier with their jobs and life in general because they were able to do more of the things they liked, like being outdoors, volunteering, and spending time with family.
I'm not ready yet to winnow down my belongings that much, but I would like to try to get rid of the possessions that I don't necessarily need anymore. It is a difficult thing to do, though, but I have managed to clean out some clothes at least once a year. I do, however, find it particularly satisfying to find a use for something that I had been saving for a long time. This might be a different type of happiness. Maybe a happiness from solving some kind of puzzle? A puzzle of how to use randomly sized boxes and containers?
What experiences make you happy?
[Update]
An interesting article on CNN about maximizing spending for happiness
No, not in a balloon in a slingshot. Just in a slingshot.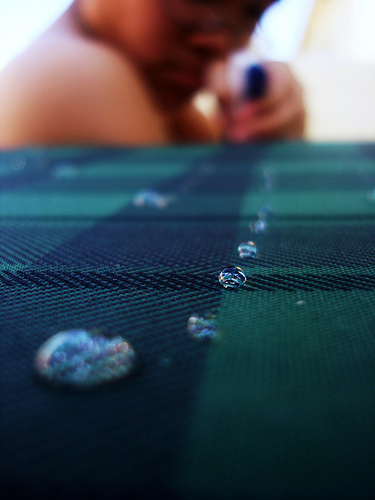 Creator of the Segway, Dean Kamen, has come up with a device that can purify water and he calls it the Slingshot. This CNN article goes into detail about the inventor and the invention. The small machine takes up the space of a typical sized drinking water fountain. Check out the images on their page for a better idea of what it is.
The device works by "vapor compression distillation," which probably means that it heats up the item containing water thereby vaporizing the water, compresses the vapor and distills it. He has stuck things in it like raw sewage, ocean water, and river water. Anything that has moisture would work. The Slingshot probably works so well because it can isolate the water molecules from everything else.
The problem is that it still costs several hundred thousand dollars to make one Slingshot. Kamen is hopeful, though, that after more engineering they can get the price down to $2,000.
At that price, more people could possibly afford it. The current model can supply 250 gallons a day, which he estimates is enough for 100 people. It might become part of a new water fountain system at a school, or be the central filtration system for a small village or apartment building.
Whatever it is, it is an invention that has the potential to change many lives. It would bring us one step closer to closing the resource usage cycle and living sustainably.


Image credit:
Flickr user au.st.in
I'm not really sure what all the details were about the Twitter and Facebook outage last week. But, from reading some of the headlines that were floating around about people feeling lost without access, I think it really is a sign that we are becoming so accustomed to being constantly connected to the Internet and to social networking sites that some people feel so lost when things are different.
We have become so attached to these websites that it seems like they are the only way to effectively reach out to certain types of audiences (not that this is necessarily a bad thing, but it worries me that some people cannot control the amount of time they spend following tweets and updating Fbook). This author is even using Twitter as a way to increase publicity for his novel (probably quite effectively too since there is this CNN article about it. I'd bet that other authors are wishing they had thought of it first…).
I was in a van last winter on the way to the tournament and I noticed how strange it was to be on my computer but offline. I hadn't been in a situation like that in a long time. It was slightly surreal. I remember the days when it was the opposite, where most of my time on a computer was offline and maybe once a day I would connect to the Internet for a few hours.
Working in this summer camp these past few weeks, I have noticed that a good number of the kids have cell phones that are often hanging from their necks or otherwise close at hand. Is that strange to anyone else? Sure, I understand the safety reasons for giving a small child a mobile phone, but aren't they a bit young to become reliant on it? This isn't a big trend by far, but it is becoming more and more frequent.
Like the authors of Wikinomics have pointed out, being connected has become a necessity and not using all of the options that technology has to offer is becoming more of a handicap for businesses. They use the term "Net Generation" to describe people who are the twitter followers, the facebook addicts, but also the people who contribute voluminously to creative and knowledge content sites like Flickr and Wikipedia. The power of the Internet is that it allows massive global collaboration.
The Net Generation has grown up with this type of connectedness and will expect that to be a important for every part of their life, personal and work related. But the tricky part is getting businesses to create or allow the creation of the job environments where this can work out for the Net Gen. Business mentalities will have to change and adjust to what the Net Gen will expect should and can be achieved through this new age of connectedness and capability.


EDIT
Check out the song Now Generation by Black Eyed Peas on their latest album The E.N.D.