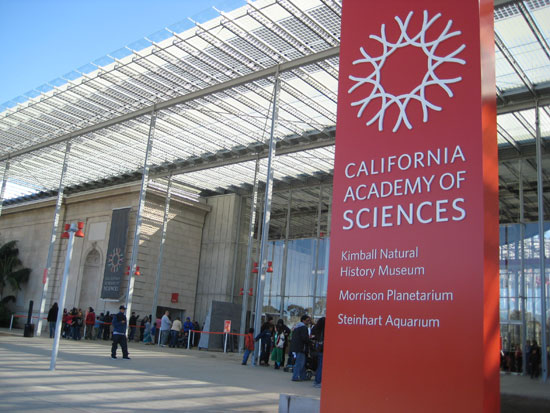 While on my trip last week out to the West Coast to visit my cousin before attending a wedding, I had the opportunity to check out the new building for the California Academy of Sciences that opened last September in San Francisco.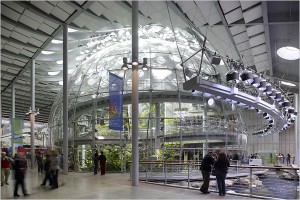 For me, the most notable parts are the "Living Roof" (which is a green roof that spans most of the roof with native California plants and a viewing deck), the planetarium, and the rainforest. The latter two compliment each other in size and are two of the main attractions for the museum. There is also an aquarium that I didn't get a chance to spend very much time in. Hopefully I will be able to make it out there again to see the rest!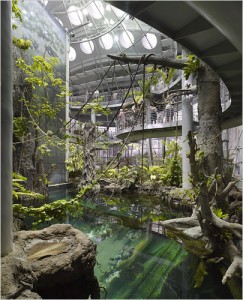 I didn't get a chance to see all of the panels along the sides of the planetarium and the rainforest, but it seemed that the theme was global warming and climate change. The planetarium show was also focused on protecting our planet along those lines.
I would have liked to see what people's reactions were to the content in the exhibits. The general feeling in California is very open to talk about the environment and human impacts. People seem to care a lot more about their role in the big picture and how things develop in their state.
It was exciting to see so many people in the California Academy of Sciences taking advantage of the great resources and exhibits. Hopefully, I will get to spend more time there and in California in general the next time I get to make the trip.

More pictures to come! (I absentmindedly left my camera at my cousin's house, so it might take a little while to fulfill this promise.) Here is a NY Times Slideshow for more photos in the meantime!

Special thanks to my cousin Jing Fong Jacobs for taking me around and being a great hostess!

Image credit:
http://www.treehugger.com/galleries/2009/02/a-trip-to-the-california-academy-of-sciences-slideshow.php
http://www.iconocast.com/EB000000000000033/I0/News4.htm