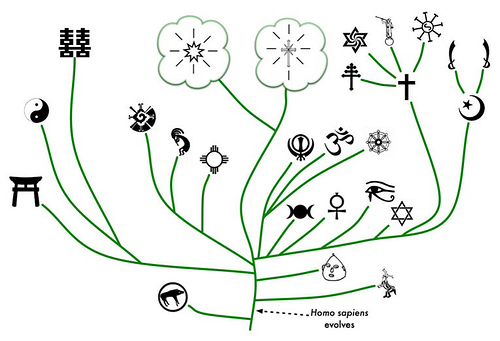 Image credit: Flickr user Colin Purrington
(This image created by Axis of Evo is not exactly what this entry is about, but it is an interesting use of a scientific technique to map out religions of the world.)
I wasn't so sure what to expect when I went to the first lecture of the Earth Institute Practicum yesterday. The speaker was Bob Pollack of the Earth Institute's Center for the Study of Science and Religion (CSSR). The first thing he did was tell us that the ideas of "right" and "wrong" are completely human constructs and that there is no evidence of them in nature.
So what is "natural" and how are science and religion connected?
Pollack's definition of what is natural is biologically derived. DNA is the force by which things may naturally happen, and anything that happens by other means could be considered "unnatural" or derived from human imagination.
The biggest example of the latter that was discussed over the 2-hour seminar was language, not just as words, but also as ideas and general communication. Pollack explained that it was the main goal of CSSR to facilitate communication between science and religion and their practitioners. They certainly are not attempting to incorporate the two, but reconcile them so that they both can work to solve global issues.

His argument is that science and scientists' responsibility goes beyond collecting and analyzing data. The data are important, but what you do with the knowledge is also important. That is where religion has its role. Though it is not the only way to make things happen, religion is a powerful vehicle that brings people together and motivates them to take action. Religion, when broken down to the central ideas that are universal, is also a connecting force that people of the world can all communicate through.
One example is the CSSR's Green Mapping project. You can find it here on their website. Green Mapping can be used by local groups to see the environmental situation in their area. It can be a tool for increasing awareness and using data that might otherwise be difficult for the general public to find. Read more about it here or watch this video:
I found the discussion very interesting and a philosophical venture that I rarely would partake in. Thinking about science is something I do all the time, but how it fits in with culture and religion is something that I have just begun to dabble thoughts into in recent months.
I think that science and religion both serve important purposes. It does frustrate me that overly zealous individuals may choose to not "believe" in things that are known in science. Believing in a religious tenet is not the same as believing in a scientific concept. A scientific concept does not require faith or followers in order for it to exist and have real meaning, value, or effect.
I think the work of the CSSR is important for allowing science and religion to both work for the reasons that they do. Science is very good at looking at data and discerning meaning from it. Religion can be very good at disseminating ideas and motivating people. They do not have to be at odds with each other!